COVID-19 UPDATE
We remain closed until further notice due to the COVID-19 pandemic. Please see our "Events" and "News" sections below for any current Zoom offerings! We look forward to re-joining with you in person again soon! Stay healthy and safe.
WEEKLY
Zoom Services
Thursdays at 11 am: ZOOM Torah Study with Rabbi Lewis
Saturdays at 9:30 am: Shabbat Zervice
Sundays at 8:45 am: Minyan Zervice
Access electronic versions of the siddurim here.
This Week's Torah Portion
Parashat Tazria Metsora
2nd Triennial Leviticus 13:40 - 14:32
Read the Portion on Sefaria.org - you can click a verse for commentary
PDF of reading in Etz Hayim (pg. 657)
YAHRZEITS: Shabbat 4/17/2021 - Friday 4/23/2021
____________________________________
____________________________________
Upcoming events
Join Us to Count the Omer!
Mark the time between Passover and Shavout as a community.
Monday 3/29 - Saturday 4/17 at 8:15 PM
Sunday 4/18 - Saturday 5/15 at 8:45 PM (later because sunsets are later!)
No Meetings Friday evenings
Relational Judaism 1:1 Trainings
Learn how to conduct One-to-One conversations so that we can get to know each other better and build community.
Choose one of the following evenings:
Sunday, April 11, 2021, 7:00 – 8:15 PM Eastern Time
Tuesday, April 20, 2021, 7:00 – 8:15 PM Eastern Time
Joint Israeli-Palestinian Memorial Ceremony
Tuesday, April 13, 1:30 pm
The largest annual event of the peace movement in all of Israel and Palestine, streamed live to an international audience. Presentations by Israeli and Palestinian artists and speakers. Co-organized by Combatants for Peace and Parents Circle-Families Forum. LEARN MORE AND REGISTER
Rabbi's Note: In the spirit of our discussions of Letters to My Palestinian Neighbor, in which many of you participated, this event is an example of and opportunity for hearing a different and potentially challenging perspective to see if we can find a way to move forward with the shared goal of peace.
The Amazing Jewish Calendar or
When the Moon Hits Your Eye Like a Small Piece of Pie, It's Rosh Chodesh
Sundays, beginning April 25, 10 am
Join Cantor Siegel for his symposium on the history and mechanics of the Jewish calendar.
Membership, Support & Resources
A Message from TAA Past Presidents
Please watch this From-the-Heart Video of TAA's Past Presidents on What Serving TAA Meant to Them. We hope you'll take a minute to reflect on their stories and what you can do to participate in TAA leadership. A few weeks ago, past Temple Presidents met to discuss the future of TAA leadership. The resounding theme was that being President was a turning point in each of our lives, a true honor.
We appreciate all that you do to keep TAA vibrant and we know that volunteerism in all organizations is time-consuming and sometimes difficult. We hope you will think hard about participating in TAA leadership and consider doing something, whether taking on the President or Treasurer role yourself, sharing it with a colleague or coming up with a new leadership approach.
There probably is never a perfect time in your life to be Temple President or a Temple Co-President. But, we hope you watch this video and get inspired. Maybe you will decide it is your turn to do something for our congregation. Even if you haven't volunteered before, please consider taking a small role! Contact any of the past presidents with questions and ideas.Thanks for working with us to keep TAA strong!!!
---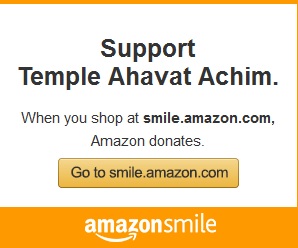 ---
Tue, April 13 2021 1 Iyyar 5781