COVID-19 UPDATE
We remain closed until further notice due to the COVID-19 pandemic. Please see our "Events" and "News" sections below for any current Zoom offerings! We look forward to re-joining with you in person again soon! Stay healthy and safe.
WEEKLY
Zoom Services
Thursdays at 11 am: ZOOM Torah Study with Rabbi Lewis
Saturdays at 9:30 am: Shabbat Zervice
Sundays at 8:45 am: Minyan Zervice
Access electronic versions of the siddurim here.
This Week's Torah Portion
Parashat Hukkat
2nd Triennial Numbers 19:1 - 20:21
Read the Portion on Sefaria.org - you can click a verse for commentary
PDF of reading in Etz Hayim (pg. 880)
YAHRZEITS: Shabbat 6/19/2021 - Friday 6/25/202
____________________________________
Rabbi's Corner- What We Have Been Through: Share Your Pandemic Wisdom
As we move toward reopening and more in-person interactions, I am very curious to hear what you've learned from this uniquely challenging fourteen months of pandemic. From this experience, many of us have stories, not only of loss and deprivation, but also of deep learning and insight into our lives. Please share any insights or learning that grew out of the challenges we've faced.
This week's Torah reading is the dramatic/traumatic experience of the twelve Israelite spies who scout out the Land of Canaan. According to ten of the spies there was no hope because, "The country that we traversed and scouted is one that devours its inhabitants." Two of the spies, Caleb and Joshua, counter that there is no need to fear because God is with them and "The land that we crossed through and scouted is a good land: exceedingly, exceedingly!" The result is that the Israelites need to remain in the desert for forty years rather than enter the land since they are not ready for the challenge.
Reading the story again this year, at this moment, the themes of fear vs. hope in challenge feel extremely relevant. How do we understand what we've been through in a way that can strengthen us moving forward?
SHARE YOUR WISDOM AND INSIGHTS HERE
____________________________________

Upcoming events
KABBALAT SHABBAT with Charlee Bianchini
Friday, June 18, 7:30 pm
Please note the change of date.
Join us for a service led by Rabbi Lewis with guitar and vocals by special guest Charlee Bianchini!
DO NOT DESTROY: JEWISH FOOD AND OUR EARTH

Bal tashchit, do not destroy, has come to be a rallying cry for Jewish environmental efforts generally. Yet the original mitzvah relates specifically to food consumption, commanding us to preserve life through caring for the land and our food sources. How can we practice these principles of preservation and conservation today? How does a plant-based diet allow us to live out a Jewish ethic of land stewardship and care?
Presenter Sara Eifler (she/her) is the Program Director of Jewish Veg, a national nonprofit that inspires and assists Jews to adopt plant-based diets as an expression of Jewish values. Sara is also a rabbinical student at ALEPH: Alliance for Jewish Renewal. She believes in a Jewish ethic of responsibility and care toward animals and the earth and is passionate about global food justice.
LIVE GARDEN TOUR
July 11, 10 am to 3 pm Rain or Shine
We are going LIVE With the first ever TAA Garden Tour! This July 11, six to eight TAA Members throughout Cape Ann will generously open their gardens for our pleasure.
This tour is open to TAA members and guests, and will be considerately managed with a map and timed tickets to offer a delightful, uncrowded in-person experience.
There is no fee for this tour. There will be Tzedekah boxes at each garden for an optional donation to benefit Backyard Growers of Cape Ann. We believe this is the perfect time and the perfect event to build authentic and heartfelt relationships in our larger community through helping support this wonderful "grass roots" organization.
Calling All Artists!
Our Tzedkah boxes for the tour will be miniature bird houses, suitable for a whimsical indoor decoration. We need them to be painted creatively, and will raffle them off as part of the Garden Tour experience, to raise additional funds for Backyard Growers.
We have the bird houses along with paints and brushes ready to go! Contact Jasmine if you would like to contribute your time and talent. We will call you to arrange delivery or pick up of your bird house and art supplies.
The Amazing Jewish Calendar or
When the Moon Hits Your Eye Like a Small Piece of Pie, It's Rosh Chodesh
This course has concluded, but you may watch recordings of the sessions here.
Membership, Support & Resources
The TAA Annual Meeting will be held on Zoom
Tues., June 15 at 6:45 pm
A Message from TAA Past Presidents
Watch this From-the-Heart Video of TAA's Past Presidents on What Serving TAA Meant to Them and reflect on what you can do to participate in TAA leadership. Contact any of the past presidents with questions and ideas.Thanks for keeping TAA strong!!!
---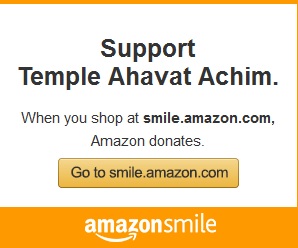 ---
Tue, June 15 2021 5 Tammuz 5781