COVID-19 UPDATE
We remain closed until further notice due to the COVID-19 pandemic. Please see our "Events" and "News" sections below for any current Zoom offerings! We look forward to re-joining with you in person again soon! Stay healthy and safe.
WEEKLY
ZOOM OFFERINGS!
Thursdays at 11 am: ZOOM Torah Study with Rabbi Lewis
Saturdays at 9:30 am: Shabbat Zervice
Sundays at 8:45 am: Minyan Zervice
We now have siddurim in an electronic format for your convenience! Click here
This Week's Torah Portion
Feb. 16-22, 2021 (5781)
Shabbat Zakhor
Parashat Terumah
2nd Triennial Exodus 26:1 - 30
Etz Hayim pg. 491
Read the Portion on Sefaria.org - you can click a verse for commentary
____________________________________
CLICK HERE for our TAA WEEKLY NEWSLETTER
---
CLICK HERE for
News

JOIN TAA TO CELEBRATE PURIM!
Next Thurs. Feb. 25, 6:30 pm
Join us for silly hats, noisemakers, and reading from the Book of Esther.
PDF of the Megillat Esther (Book of Esther)
Support our neighbors in need as part of TAA Gives Back! Give here.
UPCOMING EVENTS:
TUNEFUL KABBALAT SHABBAT
Friday, March 5, 6:30 p.m.
Join us for a service led by Rabbi Lewis with music by special guest Charlee Bianchini!

CREATING AN INNER SANCTUARY:
ART WORKSHOP WITH SARA ROIZEN
Tuesday, March 9, 9-10 a.m. or Thursday, March 11, 8-9 p.m.
Learn how to cultivate inner peace through art. All levels welcome & art supplies are available!
THE AMAZING JEWISH CALENDAR or
When the Moon Hits Your Eye Like a Small Piece of Pie, It's Rosh Chodesh
Sundays, beginning April 11, 10a.m.
Join Cantor Siegel for his symposium on the history and mechanics of the Jewish calendar.
Membership, Support & Resources
For our online Membership and Payment Form, please CLICK HERE.
To pay for your child(ren)'s school tuition, please CLICK HERE.
---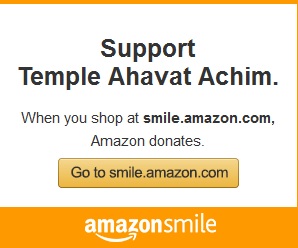 ---
Tue, March 2 2021 18 Adar 5781