COVID-19 UPDATE
We remain closed until further notice due to the COVID-19 pandemic. Please see our "Events" and "News" sections below for any current Zoom offerings! We look forward to re-joining with you in person again soon! Stay healthy and safe.
WEEKLY
Zoom Services
SHAVUOT MORNING ZERVICE
with Full Hallel, Selections from the Book of Ruth and Yizkor
Monday, May 17, 9:30 am
Thursdays at 11 am: ZOOM Torah Study with Rabbi Lewis
Saturdays at 9:30 am: Shabbat Zervice
Sundays at 8:45 am: Minyan Zervice
Access electronic versions of the siddurim here.
This Week's Torah Portion
Parashat Behar - Behukkotai
2nd Triennial Leviticus 25:39 - 26:46
Read the Portion on Sefaria.org - you can click a verse for commentary
PDF of reading in Etz Hayim (pg. 744)
YAHRZEITS: Shabbat 5/8/2021 - Friday 5/14/2021
____________________________________
____________________________________
Upcoming events
TIKKUN LEIL SHAVUOT
Sunday, May 16
7:30 pm optional Ma'ariv
8 pm start of Tikkun Leil Shavuot
Evening Torah study in celebration of the anniversary of the giving of the Torah.
This year we will join three other North Shore communities for our celebration of Torah.
REGISTER TO RECEIVE THE ZOOM LINK
Join Us to Count the Omer!
Mark the time between Passover and Shavout as a community.
Every evening (except Fridays) through Saturday, May 15 at 8:45 pm
CHECK OUT THE LIST OF SONGS FOR THE REMAINING NIGHTS
The Amazing Jewish Calendar or
When the Moon Hits Your Eye Like a Small Piece of Pie, It's Rosh Chodesh
Sundays, beginning April 25, 10 am
Join Cantor Siegel for his symposium on the history and mechanics of the Jewish calendar.
Live Garden Tour Sunday, July 11
Contact Cynthia Kaplan to show your property or serve on the committee.
Membership, Support & Resources
A Message from TAA Past Presidents
Please watch this From-the-Heart Video of TAA's Past Presidents on What Serving TAA Meant to Them. We hope you'll take a minute to reflect on their stories and what you can do to participate in TAA leadership. A few weeks ago, past Temple Presidents met to discuss the future of TAA leadership. The resounding theme was that being President was a turning point in each of our lives, a true honor.
We appreciate all that you do to keep TAA vibrant and we know that volunteerism in all organizations is time-consuming and sometimes difficult. We hope you will think hard about participating in TAA leadership and consider doing something, whether taking on the President or Treasurer role yourself, sharing it with a colleague or coming up with a new leadership approach.
There probably is never a perfect time in your life to be Temple President or a Temple Co-President. But, we hope you watch this video and get inspired. Maybe you will decide it is your turn to do something for our congregation. Even if you haven't volunteered before, please consider taking a small role! Contact any of the past presidents with questions and ideas.Thanks for working with us to keep TAA strong!!!
---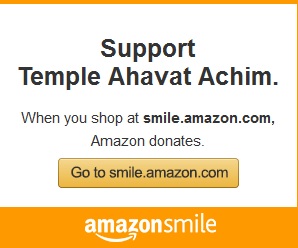 ---
Thu, May 6 2021 24 Iyyar 5781